Architecture as art
Konferensen är avslutad.
ITARC2012 hade c:a 250 deltagare på Moderna Museet i Stockholm.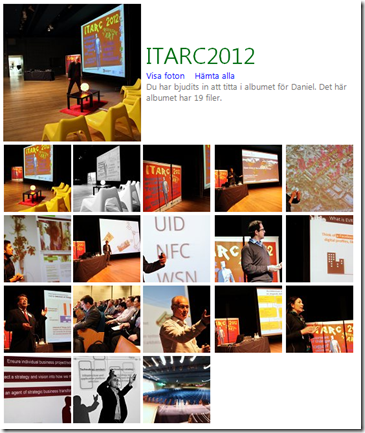 Den 17 april arrangerade vi ITARC – Sveriges årliga konferens för IT-arkitekter – för femte året i rad. Årets tema var "Architecture as art".
Arkitekturarbete blir en allt mer avancerad ingenjörskonst. Det återspeglar de allt komplexare IT-systemen i kombination med ständigt högre krav på flexibilitet, skalbarhet och integrerbarhet. Det är inte överraskande att IT-arkitektens förmåga och kompetens får allt större betydelse.
Varje år tar vi upp en trend som vi bedömer kommer att påverka arkitekturarbetet. ITARC 2012 ägnar förmiddagen åt Internet of Things. Det är en våg av ny teknik och nya tillämpningar som spänner hela vägen från tung industri till hushåll. Det är också en utveckling som spränger gränsen mellan professionella utvecklare och privatpersoner. Gör-det-själv tar klivet in i den digitala världen på allvar.
Enligt Ericsson är 50 miljarder apparater uppkopplade 2020. Inom bara cirka tre år lär det inte säljas en apparat som inte har ett gränssnitt mot nätet, med kompletterande tjänster. Även vardagliga ting som kläder och heminredningsdetaljer blir nåbara via nätet.
Användarna kommer att lägga sig i och ta för sig på helt nya sätt. Entusiaster kopplar in och ihop allt möjligt väntat och oväntat, inkluderande nya digitala tjänster. Vilka affärsmöjligheter öppnar det? Blir affärssystemen gränslösa? Vilka nya krav ställer det på arkitekturer?
9:00
Open Data and the Internet of Things
Usman Haque, founder and CEO, Pachube
KEY NOTE
The expected massive growth of connected device, appliance and sensor markets in the coming years – often called 'The Internet of Things' – will need a more rich concept of 'open data' than is currently common.
When data is generated through activities of people doing things inside their homes and outside in public in their cities, the question of who owns the data becomes almost irrelevant next to the questions of who has access to the data, what do they do with it, and how do citizens manage and make sense of their data while retaining the 'openness' that we've seen drive creativity and business on the web over the last few years.

Usman Haque is the founder of Pachube.com, a real-time data infrastructure for the Internet of Things used by thousands of people and companies around the world (acquired by LogMeIn Inc in 2011). Trained as an architect, he has created responsive environments, interactive installations, digital interface devices and dozens of mass-participation initiatives. His skills include the design and engineering of both physical spaces and the software and systems that bring them to life.
Usman received the 2008 Design of the Year Award (interactive) from the Design Museum, UK, a 2009 World Technology Award (art), a Wellcome Trust Sciart Award, a grant from the Daniel Langlois Foundation for Art, Science and Technology, the Swiss Creation Prize, Belluard Bollwerk International, the Japan Media Arts Festival Excellence prize and the Asia Digital Art Award Grand Prize.
9:45
The evolution of the Internet of Things
Florian Michahelles, director, Auto-ID Lab ETH Zurich/HSG
The Internet of Things represents the most recent evolution of the Internet: It has been founded as a network of computers for sharing data, processing and storage capabilities. Social computing and Web2.0 have created the notion of a network of people. Finally, the Internet of Things facilitates the sharing of data of things, items, devices and places.
As sensor networks, networked appliances and participatory mobile sensing apps are starting to embrace business practice and everyday lifes, this talk derives the requirements of an emerging Internet of Things architecture. Furthermore, this talk discusses emerging trends, presents business drivers and applications. and speculates on how the Internet of Things might further develop.
Value of information about the real-world
Requirements for an Internet of Things Architectures
Current developments and drivers
Challenges and Opportunities
Speculating on a future IoT architecture facilitating an open and trusted sharing of data and services
Florian Michahelles heads the Auto-ID Lab ETH Zurich/HSG and directs research at the forefront of mobile commerce innovations and global standards for supply-chain optimization. Additionally, he coordinates the research agenda of the global Auto-ID Labs research network.
Michahelles received a PhD from ETH Zurich and holds a M.Sc in computer science and psychology from the Ludwig-Maximilians-University of Munich.  Michahelles has published 50+ papers in international journals, conferences and scientific workshops. He was the program chair of the Internet of Things Conference (IoT2010) in Tokyo, and organizes IoT2012 in Wuxi-Shanghai.
10:30
Kaffe
10:50
Active Digital Identities – The Web of Things in Practice
Vlad Trifa, co-founder, EVRYTHNG
The Web of Things is the intersection of Web technologies and embedded sensing, where tools and techniques commonly used for the Web are leveraged to seamlessly blend the real world with the existing Web infrastructure. Vlad will describe the fundamental building blocks of the Web of Things as an extension of the current Web paradigms and propose practical solutions to compensate the limitations of traditional Web techniques and enable the development of efficient, event-driven, and scalable distributed sensing applications.
Vlad Trifa will also describe the architecture of an end-to-end, fully Web-based, flexible and scalable application for collecting, processing, sharing, and storing real-time sensor data that integrates directly over the Web.
"In the project EVRYTHNG we try to organize the world's objects with an Active Digital Identity (ADI) for every thing. We have a vision of dynamic digital services and experiences connecting people and things — where every product and other physical objects are part of the Web. This will help manufacturers and developers create brilliant new services, apps and experiences that connect things with people".
Context for the Web of Things: Networked Embedded Devices (NEDs)
Distributed Sensing Applications (DSAs) Today
Problem Statement: Software and Hardware Infrastructures for Web-augmented Things
The Web of Things: How and Why?
Web-enabling Devices and Gateways
Active Digital Identities (ADIs), How and Why ADIs are Useful
EVRYTHNG as a storage engine
Problem Solved: Connecting People & Products
Vision: Every Thing Connected
WebofThings.org – open source community around Web-enabling Things
Vlad Trifa is co-founder of EVRYTHNG and WebofThings.org and has a Ph.D. in computer science from the Swiss Federal Institute of Technology (ETH Zurich) and a M.Sc. in computer science with a concentration in robotics and machine learning from the Ecole Polytechnique Fédérale de Lausanne (EPFL). Widely published, Vlad is a recognized expert in the interconnection of networked embedded devices (sensor networks, robots, mobile phones, RFID, etc.) with higher-level applications using Web technologies. He also worked as a researcher in for example urban and mobile computing at the Senseable City Lab at the Massachusetts Institute of Technology (MIT) in USA and Singapore.
11:40
IVA:s projekt för Internet of things
Östen Frånberg, IVA
Projektet syftar till  att utveckla verksamheten inom IoT i Sverige. IoT möjliggör att styrning och kontroll av industriprocesser och samhällsfunktioner kan digitaliseras. Sverige har goda förutsättningar att ligga långt framme inom vissa delar av IoT. En framskjuten position lägger grunden för ökad svensk konkurrenskraft inom industrin, med ökad BNP och nya arbetstillfällen som resultat. Dessutom skapas nya företag i Sverige.
Översikt IoT i Sverige
Drivkrafter för IoT inom industri, myndigheter och kommersiellt
Teknik, inbyggda enheter och 50 miljarder sensorer i världen 2020
Exempel på produktarkitektur med sensorer
Exempel på IoT system i vitvaruprodukter
Östen Frånberg är bland annat ansvarig för IVA:s projekt IoT i Sverige och ordförande för ISOC-SE sedan starten 1997.
12:00
Lunch
Standarder, ramverk och modeller för arkitekturarbete har mognat. Hur tillämpbara är de?

13:00
ISO/IEC 42010 angående rekommenderad praksis för arkitekturbeskrivningar
Per-Erik Padrón, arkitekt, Perago
Kan man normera och standardisera IT-arkitektens arbete? Vad ska egentligen en IT-arkitekt producera? ISO har tillsammans med flera andra organisationer arbetat fram  rekommendationer inom detta område. I detta föredrag presenteras dessa rekommendationer och olika sätt att tolka dem. Vidare diskuteras hur man praktiskt kan använda dessa rekommendationer inom ett företag/ en myndighet samt hur man kan använda dem för att kommunicera mellan organisationer. Och, hur vill vi att standardiseringsarbetet inom IT-arkitektur ska fortsätta?
Vad ska en IT-arkitekt ta fram?

Vad ska man beskriva?

Hur ska de olika beskrivningarna förhålla sig till varandra?

Hur definieras vissa centrala begrepp inom IT-arkitrektur?
Per-Erik har arbetat med IT-arkitektur de senaste 20 åren. Primärt har han arbetat med att bygga upp arkitekturfunktioner i stora organisationer. I mycket har han fokuserat på "hantverket" dvs hur arbetar man som IT-arkitekt. Han undervisar i arkitektur hos de flesta utbildningsleverantörer. Per-Erik sitter i IASAs styrelse och arbetar bland annat att certifiera arkitekter på global basis.
13:45
MODEM – verksamhetsarkitektur med semantisk bas
Lars-Olof Kihlström. senior konsult, Generic Systems Sweden
Lars-Olof Kihlström presenterar historien bakom arktekturramverk i form av MODAF (Ministry Of Defence Architecture Framework (UK)), NAF (Nato Architecture Framework) och DoDAF (Department of Defence Architecture Framework (US)), UPDM (Universal Framework for DoDAF and MODAF (OMG)). Han beskriver vidare hur arbetet med en semantisk bas för arkitekturramverk startade som en internationell samarbetsgrupp mellan Storbrittanien, Canada, Australien, USA och Sverige och dess resultat: IDEAS foundation.
De fördelar som en utvidgning av arkitekturramverken baserat på semantisk grund i form av IDEAS foundation beskrivs kortfattat. MODEM ,en integration mellan IDEAS foundation och MODAF presenteras. Några exempel som visar på den ytterligare tydlighet som MODEM tillhandahåller beskrivs. Till sist beskrivs hur MODEM kommer att hanteras i framtiden.
Arkitekturramverken (MODAF, NAF, DoDAF, UPDM)

Semantisk teknologi (IDEAS)

MODEM fördelar och exempel

Slutsatser och framtida möjligheter
Lars-Olof Kihlström (Civ. Ing Teknisk Fysik, KTH) är seniorkonsult på Generic Systems Sweden AB och har arbetat med utveckling och användning av arkitekturramverk sedan 2003 nationellt och även i hög grad internationellt. Han har arbetat med modellbaserad utveckling av system och mjukvara sedan mitten på 1980-talet och ansvarar för uppdraget att integrera IDEAS foundation med MODAF tillsammans med specialister från England.
14:30
Vad händer med TOGAF?
Jenny Fredriksson, konsult, Forefront Consulting Group
TOGAF har hunnit etablera sig som ett av de största ramverken för enterprisearkitektur. Listan på de över 400 organisationer som är medlemmar i The Open Group, organisationen bakom TOGAF, och antalet certifieringar visar på ett stort intresse. Vad händer inom området idag och hur ser användningen av TOGAF ut? Vi ger en snabb inblick i våra iaktagelser och vad vi tror om framtiden.
En snabb översikt !
Våra erfarenheter av TOGAF och ramverk
Styrkor och svagheter
Nytta
Framtiden för TOGAF
Tips
Jenny Fredriksson är konsult på Forefront Consulting Group med lång och bred erfarenhet som verksamhetsarkitekt från fler branscher. Hon har drivit arkitekturarbete med utgångspunkt från affär och verksamhet, genom alla de skikt som klassiskt ingår i en enterprisearkitektur.

15:00
Kaffe
Är det möjligt att mäta en organisations arkitektuella mognad? Analysbolaget Forrester Research har testat en modell i praktiken.

15:30
Forget EA Maturity Nirvana: A Different Way To Think About EA Maturity
Tim DeGennaro, Analyst, Enterprise Architecture, Forrester Research
Every EA practice is different – reporting at different levels, with different roles, responsibilities, and value propositions. Traditional thinking about maturity suggests a straight-line progression toward doing everything possible, in the best way possible – a state we call "EA Maturity Nirvana." But this state doesn't exist. In this session we will discuss:
The four "EA Archetypes" that Forrester sees
What maturity means in the context of the EA Archetypes
How to assess your maturity and build a high performance EA practice
Tim DeGennaro serves Enterprise Architecture professionals. His research focus includes EA practice maturity, evolution, and directions. In addition, he covers IT planning and EA management tools. Tim has been with Forrester for over 4 years.
16:20
Paneldebatt med fishbowl
IASA har i en arbetsgrupp tagit fram ett förslag till hur arkitektroller ska identifieras och benämnas i Sverige. Förslaget är fortfarande under arbete (länk här?). ITARC 2012 avslutas med en diskussion om förlaget.
Vilka arkitektroller vill marknaden ha?
Jonas Toftefors

Christer Berg, Dataföreningen Kompetens

Och tre tomma platser i soffan…
Fiskbowl innebär att det alltid finns plats för två deltagare ur publiken. När den tredje går upp, får den som suttit längst kliva av. Cred till Herbjörn Wilhelmsson, som föreslagit konceptet.
17:00
Konferensen avslutas
Moderator är Daniel Akenine, ordförande IASA Sverige